WHAT?
The ALL DIGITAL Academy (ADA) is an EU-funded project conceived to support adult educators and trainers by offering upskilling training activities on emerging digital technologies. The project also aims to strengthen capacity building and connect learning centres for ongoing digital transformation to increase the quality, relevance, and impact of their activities. The project will last for two years, from 2022 until 2024.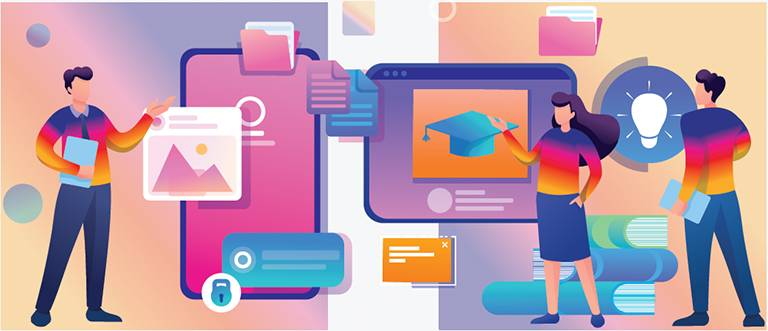 WHY?
Tackling the digital skills gap is one of the main actions in the European Commission's work programme ''A Europe fit for the digital age''. Digital technologies are constantly evolving thanks to more stable infrastructures, and the pervasiveness of the internet and devices available. Artificial Intelligence (AI) and Internet of Things (IoT) are two of the recent technologies that are increasingly being introduced in many economic fields across Europe.
That is why ALL DIGITAL Academy (ADA) wants to strengthen setting out a new era of cooperation on emerging technologies. The Academy sits at the cross-section of teaching, innovation, and technology. It is focused on developing education and training meant for the digital age and embraces the principle in the Digital Education Action Plan (DEAP) where digital competencies should be a core skill for all educators and training staff.
ADA will work for:
Upskilling adult educators working in the field of digital inclusion, through the provision of high-quality online training on key emerging digital technologies and related issues.
Strengthening the capacity of adult education organisations in informing and educating adult citizens on emerging digital technologies, through online formative and informative webinars, resources, tools, and recommendations.
Promoting transnational cooperation and exchange through the nurture of a Community of Practice as the main hub for digital competence stakeholders from all sectors to connect and share information.
FOR WHOM?
Adult educators and trainers will:
Increase their knowledge of emerging digital technologies (such as AI and IoT) by taking part in online training activities;
Develop their teaching skills by reading the Digital Competence-based resources and tools (self-assessment tools; learning and teaching methodologies);
Join the Community of Practice (CoP) of practitioners and stakeholders to share their practices, experiences, needs and solutions.
Adult learning centres and VET organisations will:
Strengthen their capacity building to facilitate the ongoing digital transformation in Europe;
Increase the overall quality, relevance, and impact of their educational activities;
Gain support and empowerment in the provision of basic digital skills and competencies.
European adult citizens will:
Have increased offer of educational activities on emerging technologies (such as AI and IoT);
Be more socially included in daily life through the educational support of adult educators and learning centres.