With rapidly evolving digital technologies becoming an integral part of economic, social and daily life in Europe, digital competencies should be one of the core skills for all educators and training staff today. ALL DIGITAL ACADEMY (ADA) aims to help adult educators and trainers to keep up with the digital transformation through training and capacity building activities on emerging digital technologies, with focus on Artificial Intelligence (AI) and Internet of Things (IoT).
By joining the ADA platform, you can get free access to:
Online training: Massive Open Online Courses (MOOCs) and Open Educational Resources (OERs) on AI and IoT
DigComp-based resources: Tools, methodologies, webinars and best practices
Community of Practice (CoP): A hub for digital competence practitioners and stakeholders to connect and exchange practices
Interested to stay updated about more learning and capacity building opportunities about emerging digital technologies and exchange your know-how with others? Register to the ADA platform here and check out our selection of free courses on AI and IoT below!
BEGINNER
AI and IOT MOOCs for Adult Educators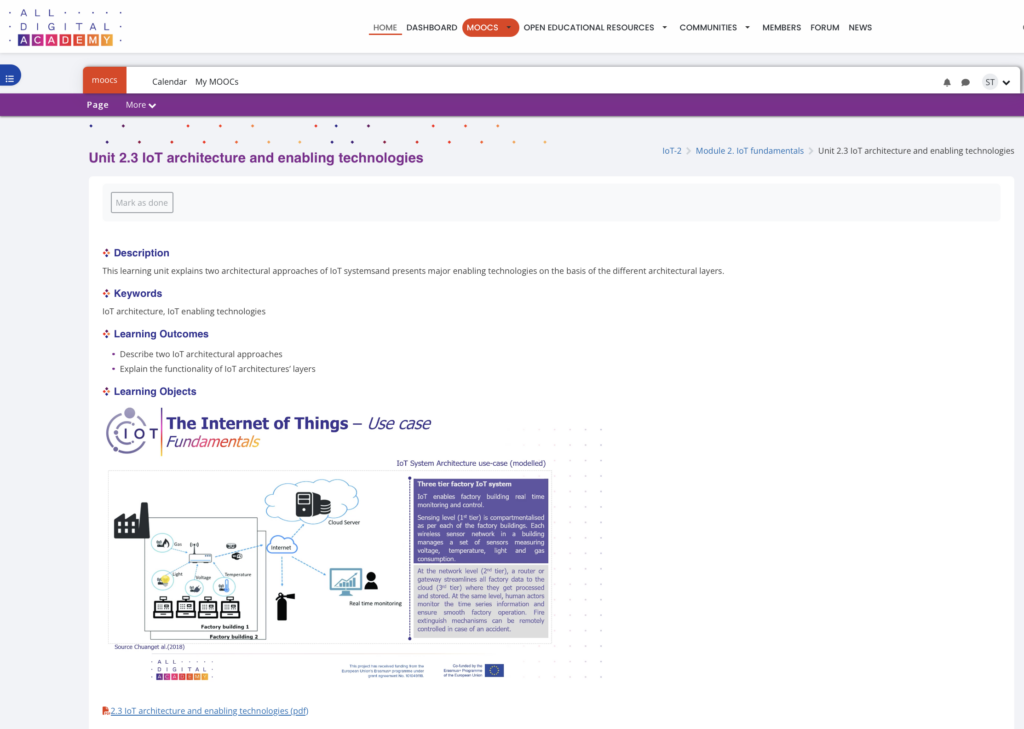 Are you an adult educator or trainer interested in covering Artificial Intelligence (AI) and Internet of Things (IoT) in your training offer, but you have limited or no knowledge in these emerging technologies? ALL DIGITAL ACADEMY (ADA) supports adult educators in keeping up with the digital transformation through training and capacity building activities. Among them are two MOOCs on AI and IoT. The courses will be open for participation in three cycles starting in July 2023, October 2023 and January 2024. Each MOOC is estimated to require a total of 24 hours including  study time (2 hours per week for 12 weeks).
Adult educators and trainers completing the MOOCS will:
get equipped with the basic understanding and skills on AI and IoT
gain the necessary knowledge to set up and deliver engaging awareness and learning experiences on AI and IoT for adult learners
receive a certificate of successful course completion, based on the average of their module scores (i.e. average score equal or above 60%)
You can find more details on the MOOCs HERE and register to them for free by joining the ADA platform HERE.
Elements of AI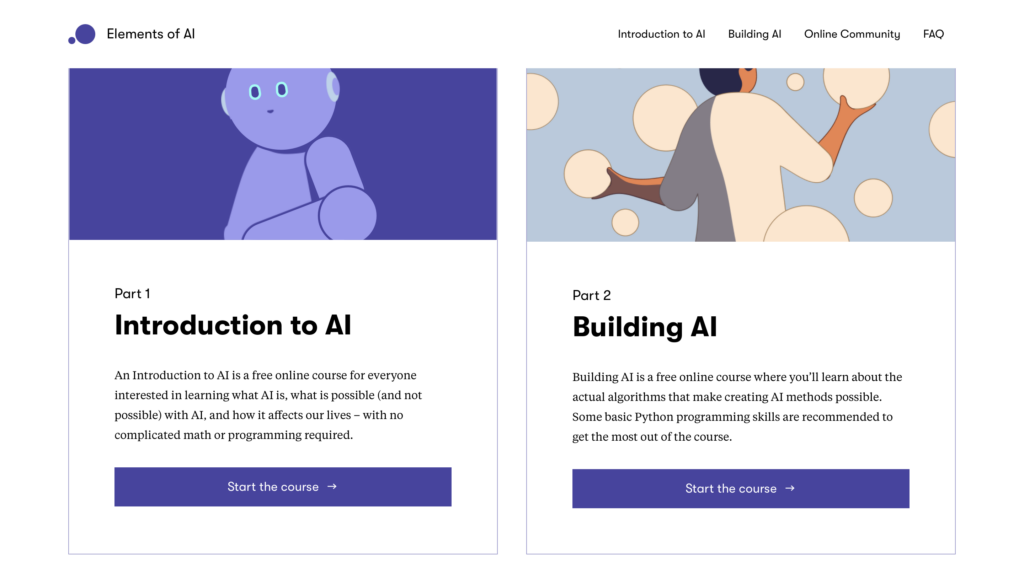 Are you wondering how AI might affect your job or your life? Do you want to learn more about what AI really means — and how it's created? Do you want to understand how AI will develop and affect us in the coming years?
The Elements of AI is a series of free online courses created by MinnaLearn and the University of Helsinki to demystify AI  for everyone!It will explain you what AI is, what can (and can't) be done with AI, and how to start creating AI methods. The courses combine theory with practical exercises and can be completed at your own pace. It is recommended trying to finish the courses in 6 weeks. You can take the course anytime.
Introduction to Generative AI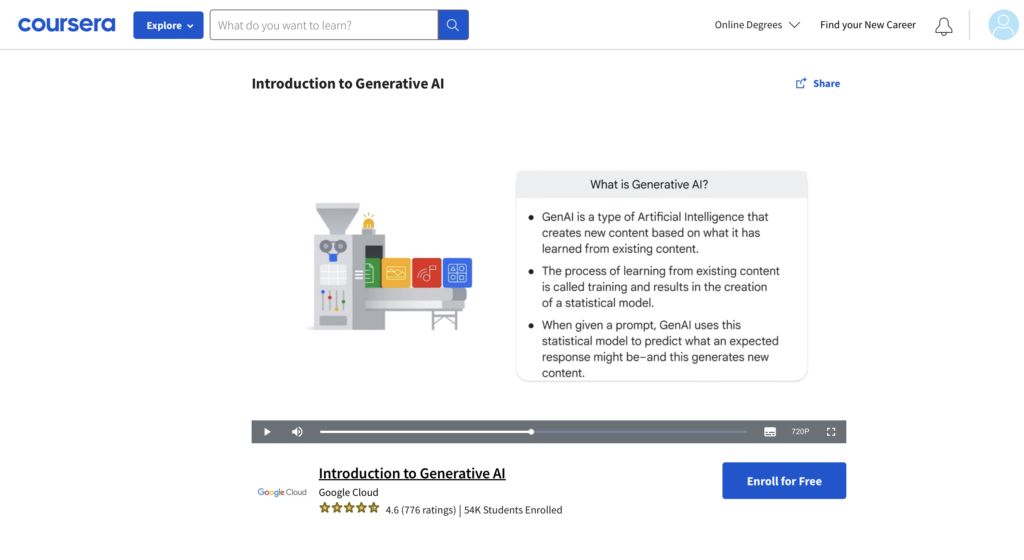 Introduction to Generative AI is an introductory level microlearning course aimed at explaining what Generative AI is, how it is used, and how it differs from traditional machine learning methods. It also covers Google Tools to help you develop your own Gen AI apps.
The course has two main learning objectives:
Define generative AI.
Explain how generative AI works.
AI for Everyone: Master the Basics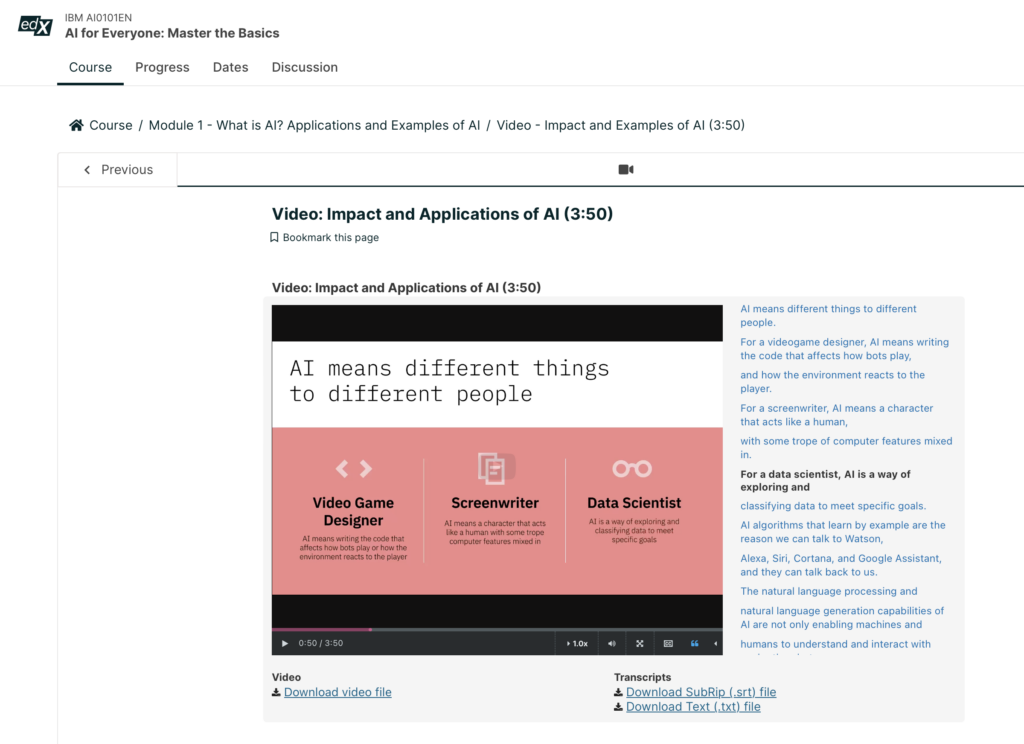 Developed by IBM, AI for Everyone: Master the Basics is a self-paced course will help you learn what Artificial Intelligence (AI) is by understanding its applications and key concepts including machine learning, deep learning, and neural networks.
While the whole training programme is paid, a free version offers you access to the course material (excluding the projects and certification) for a limited period of time.
Career Essentials in Generative AI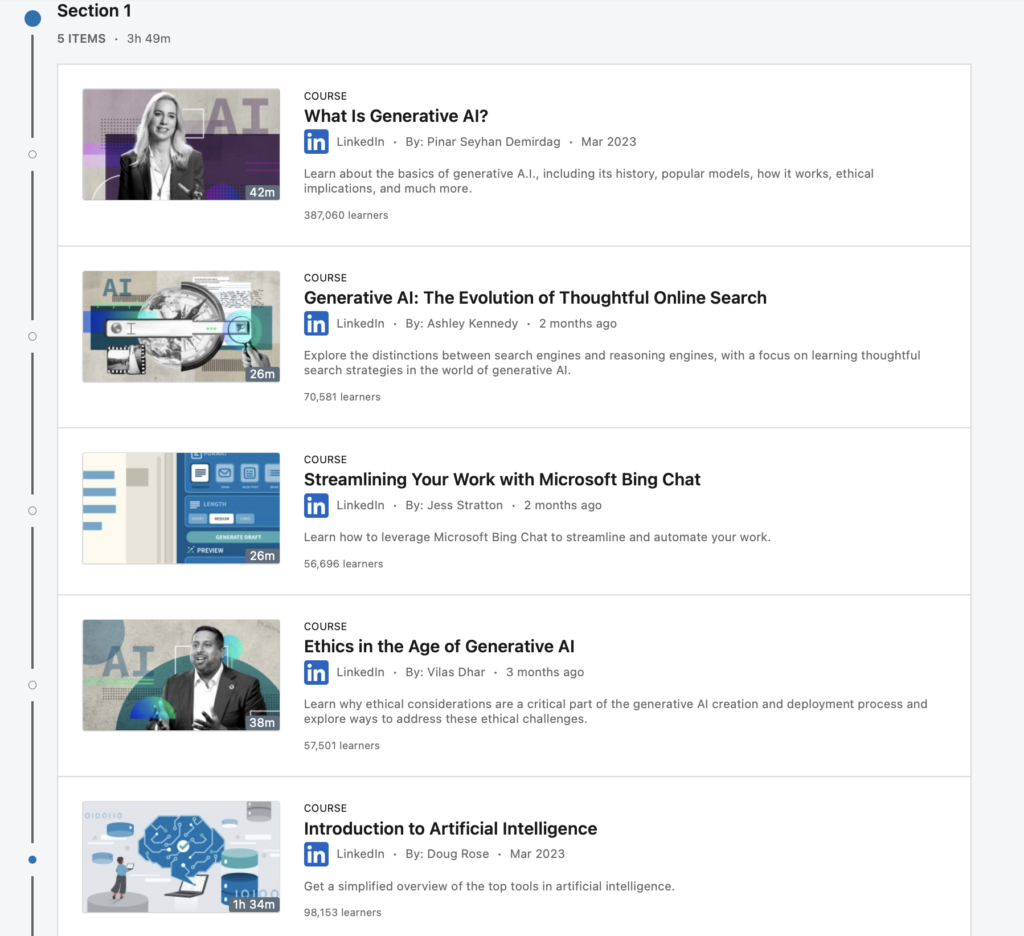 This learning path offered by Microsoft and LinkedIn will help you discover the skills needed to apply generative AI in your career by presenting you the core concepts of artificial intelligence and generative AI functionality. By following Career Essentials in Generative AI, you will:
Develop an understanding of generative AI models.
Learn the ethical considerations of using generative AI.
Explore the impact of generative AI tools.
Introduction to the Internet of Things (IoT)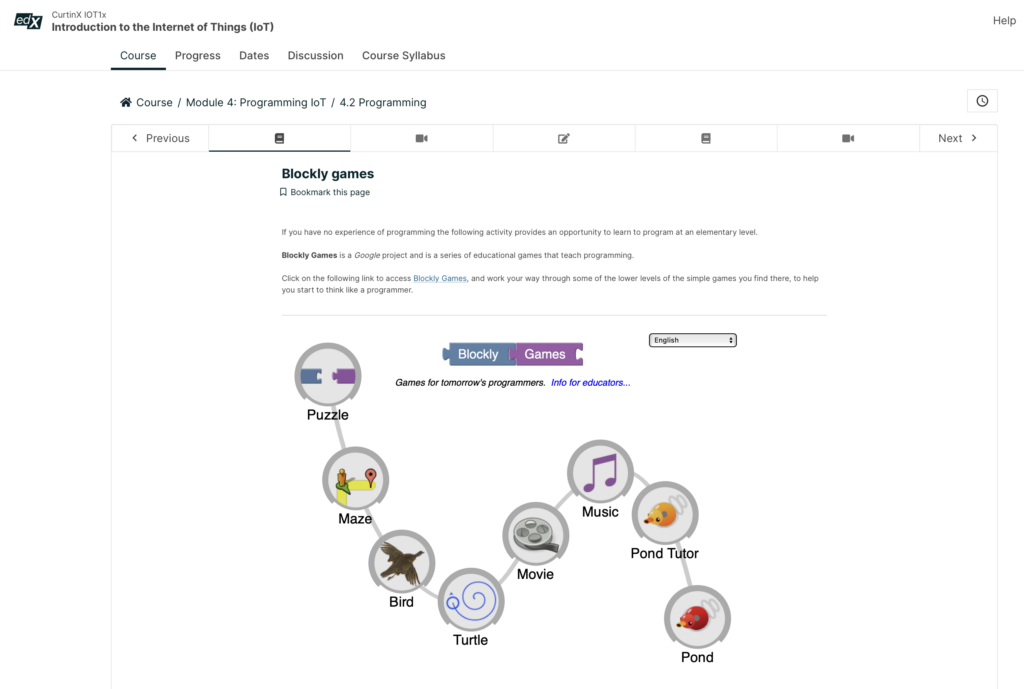 The Internet of Things (IoT) is expanding at a rapid rate, and it is becoming increasingly important for professionals to understand what it is, how it works, and how to harness its power to improve business. This introductory course will enable learners to leverage their business and/or technical knowledge across IoT-related functions in the workplace.
The Introduction to IoT course offered by the Curtin University examines the concept of IoT and looks at the 'things' that make up the Internet of Things, including how those components are connected together, how they communicate, and how they value add to the data generated. It also examines the cybersecurity and privacy issues and highlights how IoT can optimize processes and improve efficiencies in your business.
What you will learn during this self-paced 6-week training programme:
Gain a deep appreciation of the IoT
Understand what constitutes an IoT design solution
Start to grow the seeds of IoT ideas within your field and area of expertise
INTERMEDIATE
Architecting Smart IoT Devices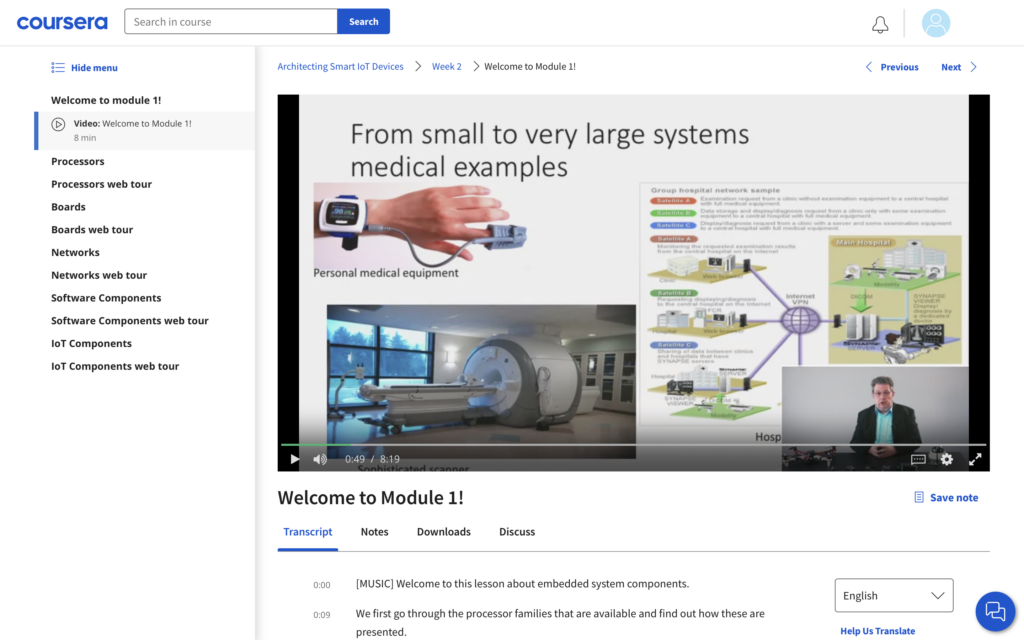 Developed by EIT Digital, Architecting Smart IoT Devices course will teach you how to develop an embedded systems device. In order to reduce the time to market, many pre-made hardware and software components are available today. You'll discover all the available hardware and software components, such as processor families, operating systems, boards, and networks. You'll also learn how to actually use and integrate these components.
At the end of the course, you will be ready to start architecting and implementing your own embedded device! You'll learn how to debug and fine tune your device and how to make it run on a low power supply.
ADVANCED
Introduction to AI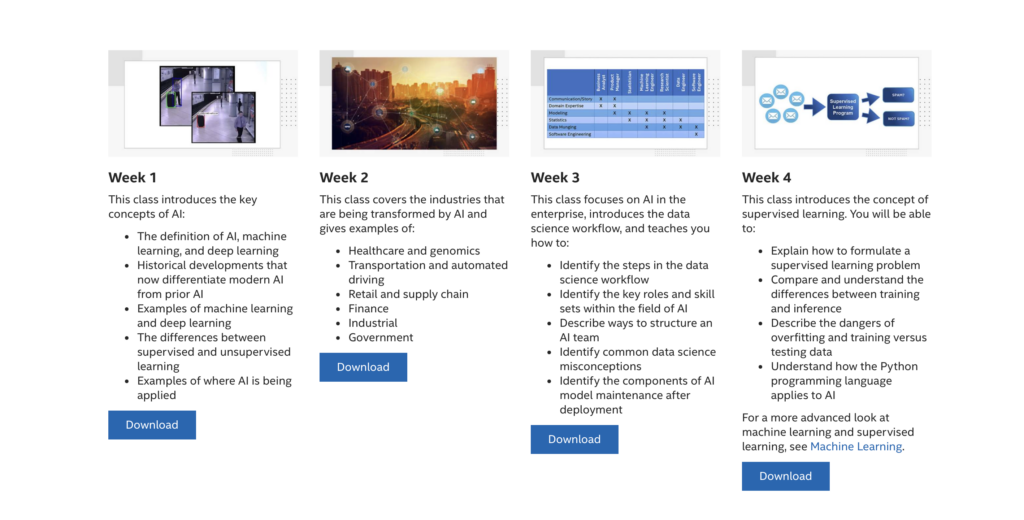 This Introduction to AI course offered by INTEL is for developers, students, or industry professionals from other computer science and engineering fields who are curious about AI. Explore AI—what it's used for and why—without the math that is involved with later courses.
Topics covered include:
The history of AI and why it's one of today's key technologies

The role of AI in the enterprise and various industries—from medicine to automated driving

Why data is important to both training neural networks and the steps in a data science workflow

An introduction to supervised learning and deep learning (prior to taking a full deep learning course)

An introduction to current hardware and software
By the end of this course, students will have practical knowledge of:
The definition of AI, machine learning, deep learning, and the historical developments that now differentiate modern AI from AI of the past

How AI can help solve problems in the industry today (with examples), and how it is becoming more important in enterprise computing

The importance of datasets, data sources, problem-solving with data, and data science workflows

The fundamentals of supervised learning and an introduction to the concepts of deep learning

How Intel® hardware and software can be applied to solve AI problems
The course is structured around eight weeks of lectures and exercises. Each week requires 90 minutes to complete. The exercises are implemented in Python, so familiarity with the language is encouraged (you can learn along the way.)